As you are beginning to see, the more Phil toured, the less pre-FM shows were being produced for air play. I don't believe this was personal against Phil, I just think that companies like Westwood One and King Biscuit were focusing their attention elsewhere. 2002's TESTIFY TOUR produced only one such show.
Here is a listing of the only known radio broadcast show recorded during this tour: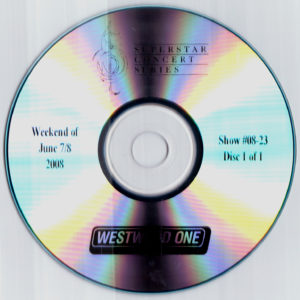 Westwood One Superstars Concert Series #SS08-23:
Westwood One Radio Networks Records
Recorded live at The La Scala Theatre, London – 6 November 2002
Original Broadcast – Weekend of 7-8 June 2008
pre-FM Single Compact Disc
Doug Ingold hosts an intimate performance at the very same theatre where Phil performed as a boy in The Beatles film A HARD DAY'S NIGHT. Taken from the BBC archives, the show contains ten songs from that night along with commercial spots. This appears to be the only pre-FM source from this tour. Incomplete capture. From my personal collection.
Complete track listing can be found here:
That's it for Phil's Testify Tour. Click

HERE

for radio shows from The First Final Farewell Tour.