In late 1983, after completing his first solo tour, Phil hit the road for a brief stint as Robert Plant's drummer on Plant's very own first solo outing. The King Biscuit Flower Hour captured three nights from this tour and edited them together for a huge four LP radio show which aired over consecutive weekends in early 1984.
Here is a listing of the only known radio broadcast show recorded during this tour: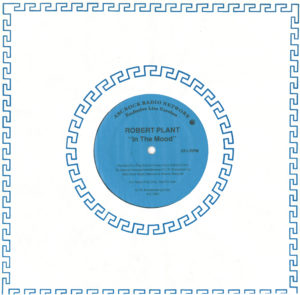 Robert Plant (with Phil Collins) King Biscuit Flower Hour #84-20:
D.I.R. Broadcasting Corporation / ABC Rock Radio Network Records
Recorded Live at The Summit, Houston, Texas, The Frank Erwin Center, Austin, Texas
and
The Reunion Arena, Dallas, Texas – 20/21/22 September 1983
Original Broadcast – Part I: 29 January 1984 / Part II: 5 February 1984
pre-FM Quadruple Vinyl LP Set
This is the only known professional recording in existence from this brilliant tour. A four album, two-part set of vinyl broadcast discs recorded over the course of three nights in Texas, with Phil playing drums on this show and short tour. No cover art as such exists as the album covers were plain white sleeves since the set was meant to be played once for broadcast and then discarded. Extremely rare and hard to find. (There is actually a Seller on eBay who was asking $5,500 for each part of the set!) Contains original commercial blocks and DJ introductions by King Biscuit regular contributor, Bill Minkin. Incomplete capture.
While I don't have this vinyl set in my personal collection, I do have a torrent copy which includes scans of the Cue Sheets and some of the LP labels, which are featured in the gallery to the right.
Complete track listing can be found here:
That's it for Phil's tour with Robert Plant. Click

HERE

for radio shows from The No Jacket Required Tour.