As with the NO JACKET REQUIRED TOUR, I don't know of any pre-FM shows from this tour,
and Simon's Movement site does not list any.
In fact, there are no FM broadcasts or simulcasts listed there either for this tour with the exception of the below listed Pay-Per-View stereo simulcast.
It appears that the closest thing to a professional recording of a show from this tour is the official VHS, LaserDisc and DVD release SERIOUSLY LIVE IN BERLIN, which captured the entire show from an outdoor venue known as The Waldebuehne in Berlin, Germany. (A scan of the DVD cover from my personal collection appears in the Gallery.)
That said, there are also numerous soundboard recordings from this tour in circulation, as listed on Simon's site. The best of these are two shows – one from the Sydney Entertainment Centre in Melbourne, Australia and the second from the Yoygogi Olympic Pool in Tokyo, Japan. Each of these recordings contain most, if not all, of the performances from those nights. (The Japan soundboard is slightly incomplete, but the Sydney show is the full set.)
Other than those two shows, and a few other soundboard recordings, there appear to be no other "non-audience" recordings from this tour, but part of me believes that there must be some pre-FM show(s) out there somewhere.
If you have any information regarding pre-FM shows from this tour, please Contact Me.
Here is the info on the Pay-Per-View concert simulcast: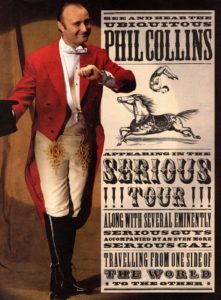 But Seriously New York!:
Pay-Per-View Cable TV Broadcast and KRQR Radio San Francisco, California FM Stereo Simulcast
Recorded live at Madison Square Garden, New York – 2 October 1990
Original Broadcast – 2 October 1990
FM Stereo Simulcast
Simulcast across the U.S. on numerous FM radio stations on the final night of the BUT SERIOUSLY WORLD TOUR, this concert was simultaneously broadcast as a Pay-Per-View special. While there has been some confusion about the exact date of this concert, some believing it was actually 3 October 1990 in part because Phil's own website listed that date, it has been confirmed through multiple sources – of which I am one – that the exact show date was 2 October 1990. Partial confirmation came in the form of the notes I took on the night of the recording, which I dated as 2 October 1990. I wrote this date directly onto the VHS tape and audio cassette tapes which I used to capture the performance. In addition, I have attached a scan below of a Rolling Stone magazine article written about this exact show, and said article clearly states the date as 2 October. (The article itself is rather stained and torn, as I had it for many years hanging on my wall.)
Unlike my lost NO JACKET REQUIRED… SOLD OUT HBO tapes, I still have the aforementioned cassette tapes and VHS tape copy of this show in my archives, which I recorded live as they were broadcast. (I captured the FM simulcast of this show from my local radio station in Maryland, where I lived at the time, but for this listing I am referencing the KRQR station broadcast out of San Francisco as it is the clearest and best sounding of the available copies.)
The entire concert was captured as it happened, warts and all, though few mistakes occurred. Phil and his "Ten Serious Guys and One Even More Serious Gal" as they were known on this tour really tore up the Garden that night (figuratively, not literally) and this recording showcases that. I feel that this performance far outshines the official release recorded in Berlin on this same tour.
Highlights include the show opener Hand In Hand along with The West Side which features a smoldering drum solo, Colours
with a drum duet featuring Phil and Chester Thompson, and the show's closing number Take Me Home, during which Phil is clearly emotional given that the tour has come to an end.
This tour will always hold a special place in my heart as it was the first time I saw a Phil Collins concert in person, at the Capital Centre Arena in Landover, Maryland. A five-star tour and a five-star show both at the Capital Centre Arena and Madison Square Garden.
As a personal note: I was in my senior year of high school at the time of this concert, and after recording this concert on VHS tape, I would watch the opening number, Hand In Hand, EVERY SINGLE DAY before heading off to school. I did this for the remainder of my senior year, which lasted until June of 1991. This version of this song is just THAT GOOD!
Complete track listing can be found here:
That's it for Phil's '90 But Seriously Tour. Click

HERE

for radio shows from The Both Sides Tour.